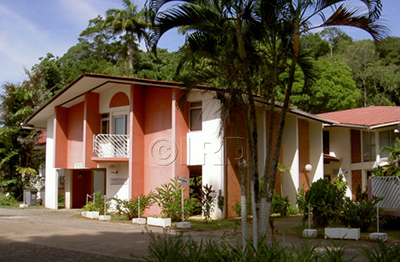 In North Eastern South America, the Espace-Dev lab is involved with the University of French Guiana (UG) and IRD Guiana thanks to the dozen or so academics who make up the local team and the IRD infrastructure that hosts them.
Constrained by the growth of its population and the need to develop new economic activities, French Guiana has the ambition to develop its local resources and to change the objectives of research and higher education to include them in a sustainable development approach at the service of the territory. In this context, the scientific themes of the Espace-Dev base in French Guiana aim to contribute to the followings:
To promote energy transition through the exploitation of renewable energies;
To implement innovative technological systems to estimate the ecological impact of human, industrial and mining activities in the Amazon;
To develop support and maintenance of the satellite reception antenna, since the creation of the SEAS network (IRD), with SEAS-Guyana. This work feeds local research in image processing (solar radiation), as well as processing chains. They are now part of national projects and networks such as GEOSUD-GEODEV (Theia), and regional projects such as PROGYSAT.