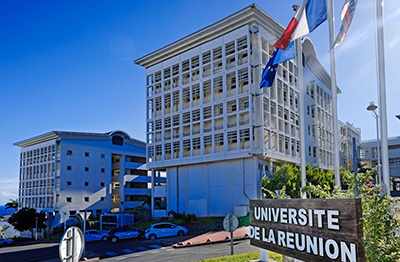 In the southwestern Indian Ocean, Espace-Dev is located within the University of Reunion Island (UR) and the University Center of Mayotte (CUFR). In Reunion Island, the team is hosted on 2 sites:
in the IRD premises on the Moufia University campus (Saint-Denis) and at the SEAS-OI station on the Terre Sainte campus (Saint-Pierre). The two sites are 80 km apart. In Mayotte, Espace-Dev is located on the CUFR campus in Grande-Terre in the commune of Dembeni.
Since the 1990's, the lab and the structure from which it is derived (the IRD Space Unit) have been carrying out work in the South-Western Indian Ocean in Reunion, Mayotte, Madagascar, the Comoros, the Scattered Islands and associated maritime areas (Mozambique Channel, South-West Indian Ocean). This research finds its roots in remote sensing since the creation of the SEAS network (IRD) in 1991 in Reunion Island. They are now part of national projects and networks such as GEOSUD-GEODEV (Theia) and Kalideos (CNES). At the same time, with its partners, the lab runs environmental observatories (e.g. SNO DYNALIT and coastal uses with OSU-Reunion, land use dynamics on the scale of the Mascarene Islands).